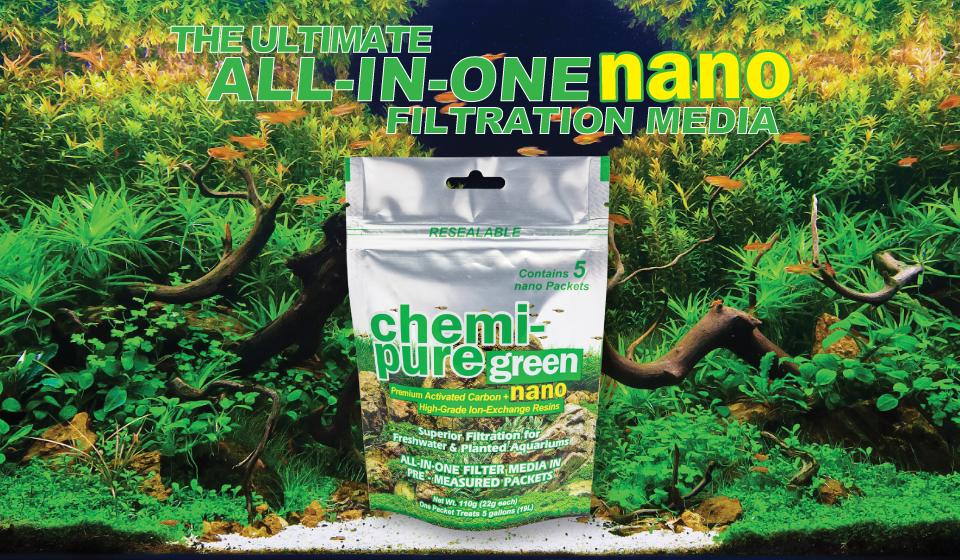 04 Jan

Introducing Chemi-pure Green – The Planted Aquarium Dream

We are excited to announce a new line in the Chemi-pure family of all-in-one filtration media! Chemi-pure has been an aquarium staple for over 60 years and this success is apparent because our products really work!

Everyone please give a welcoming round of applause for the newest member of the team: Chemi-pure Green!

Chemi-pure Green is the planted aquarium dream; it is the ultimate all-in-one filtration media on the market that actually enhances the health and well-being of aquarium plants. Conveniently packaged in an easy to use nylon bag, Chemi-pure Green is formulated to offer superior filtration without removing essential nutrients. Chemi-pure green will not deplete phosphate levels which are required for healthy lush plant growth. The product comes in various sizes tailored to aquariums of all sizes.

Chemi-pure Green combines the highest grade of low dust pelletized activated QuickWash Carbon with premium ion exchange resins to produce a balanced formula optimized for the health and well-being of your plants while delivering crystal clear water. The proprietary formula significantly reduces tannins, odors, toxins, organic compounds and medications. Chemi-pure Green's high-capacity pelletized activated QuickWash Carbon has very low ash content and rinses clear quickly. The finest laboratory grade resins are incorporated to rapidly remove organics and tannins from your aquarium water while helping to stabilize pH and maintain macronutrient levels. The product also clarifies the water for deeper light penetration to low lying plants.

Chemi-pure Green is the go-to product to absorb discoloration in the water coming from tannins, these tannins usually come from the beautiful driftwood pieces used in many aquarium aquascapes. Chemi-pure green will remove the yellowish-brown coloration and allow the aquascape to shine in crystal clear water!

DID YOU KNOW : Chemi-pure Green also comes in small nano packets?

Chemi-pure Green Nano packets give you a wide range of options to customize your freshwater and planted filtration media needs.

If you simply need to add a little extra power due to a slight rise in undesirable waste products, add a Nano packet or two to your existing media to take care of it.

These versatile packets can be used in the smallest of filtration devices or even placed directly in an aquarium in hidden nooks or crannies where the flow is sufficient to provide a constant contact area between the Green Nano media packet and the surrounding aquarium water.

To learn more about our full line of products, visit us at www.chemipure.com.

THE BENEFITS OF USING CHEMI-PURE GREEN:
Enhances plant growth
Reduces organics, tannins, odors, and toxins
Doesn't strip the aquarium of micro or macro nutrients
Clarifies the water for deeper light penetration
Optimized for the health and well-being of planted aquariums
Chemi-pure Green's unique formula is the finest planted aquarium filtration media available. For a healthy, stable, crystal clear planted aquarium use Chemi-pure Green!
Try it and see the difference!
NEW product for Planted Tanks: NOT EVEN ON THE MARKET YET!
Chemi-pure Green is the newest offering from the folks at Boyd Enterprises