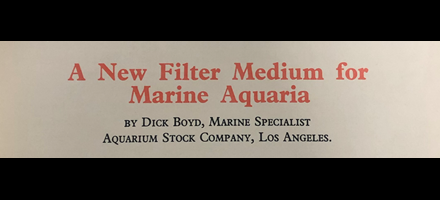 04 Aug

Blast from the Past! Dick Boyd writing about why he started Chemi-pure in a Tropical Fish Hobbyist Magazine from 1959!

The founder of Boyd Enterprises, Dick Boyd, published an article in Tropical Fish Hobbyist magazine on the release of the world renowned Chemi-pure filtration media in 1959. Prior to Boyd's discovering, marine fish had no success thriving in a closed system aquarium. Boyd shares the obstacles faced when attempting to effectively keep marine fish in the home. He was warned by other Aquarists that "Marine fish are not hardy" and "The marine aquarium will never be popular; they are just too difficult to keep!". Boyd shares his journey throughout the course of aiming to end the troubles in keeping marine fish.

In 1955 Boyd began working for Robert Straughen, who owned Coral Reef Exhibits, in Miami, FL. This shop was strictly dedicated to Marine fish. Both sharing the same passion for the hobby, together they commenced the first marine aquarium society, the Greater Florida Marine Aquarium Society, which today is known as the Florida Marine Aquarium Society. Before the grand opening of Coral Reef Exhibits, the number of aquarists was no more than a dozen. This number spiked drastically as others joined Boyd and Straughen on their exploration on keeping marine fish.

In July 1956 Boyd sets off to cross the country and begins working for Mr. Leonard Berkitz and Mr. George Wormser of Aquarium Stock Company, in California. Not long after his start with a new company, Boyd persuades Berkitz to install their first ever marine section. With the owners envisioning a potential future in the marine hobby, they agree and install six marine fish tanks. This allowed Boyd to study and perform the very same theories he and Straughen had success with in Miami FL. The theories gain significant improvement over the next few years, leaving Mr. Wormser to construct a larger marine fish section under Boyd's management. Diligently studying day and night, Boyd finally resolves the solution to maintaining the health of marine fish. He discovered the ion exchange resin used in precisely the right proportions mixed with activated carbon, resolves the challenges that many deemed unsolvable.

When announcing the new filtering method to aquarists, they earn many satisfied customers, and continue to till this day. The 1960's issue of Tropical Fish Hobbyist magazine is a wonderful memento of how Chemi-pure has revolutionized the marine aquarium industry.